Pussy Riot punk band member Nadezhda Tolokonnikova has asked Russia's Supreme Court to throw out her conviction and two-year prison sentence, her lawyer said on 7 November 2013.
Khrunova said the appeal included an argument that the protest, which band members said was meant to criticize close ties between Putin and the Russian Orthodox Church, was not motivated by religious hatred and was non-violent. Western governments have called the two-year sentences excessive and Kremlin critics denounced the charges as part of a clampdown on dissent under Putin, who won a third term as president a week after the Pussy Riot protest.
See on www.reuters.com
---
Agence France-Presse – 7 November 2013:
Russia: Concerns rise over 'missing' Pussy Riot member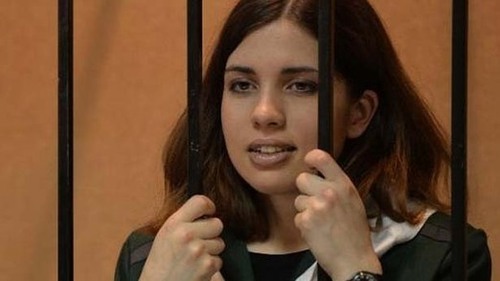 Concern for jailed Pussy Riot member Nadezhda Tolokonnikova mounted on her 24th birthday Thursday, after her husband said she could not be found in the Russian prison colony where authorities reportedly sent her in October. "The authorities of the colony in the taiga (region) told us that they don't have Tolokonnikova and don't know when she will arrive,"Her husband Pyotr Verzilov wrote on Twitter.
See on www.rawstory.com
---
PEN International – 12 November 2013
Call to action for imprisoned Nadezhda Tolokonnikova
PEN International is extremely concerned for the well-being of imprisoned Pussy Riot member Nadezhda Tolokonnikova, whose current whereabouts have not been disclosed by the Russian authorities.
"Russia's refusal to disclose Tolokonnikova's whereabouts is a direction violation of the UN's Standard Minimum Rules for the Treatment of Prisoners which state that prisoners should be allowed regular communication with family and friends and that family members must be notified when a prisoner is transferred from one prison to another," wrote PEN.
» See here how you can take action